Ski Do's and Don'ts
Keeping safe whilst skiing is important. This means everything from learning about ski maintenance to how to behave on the slopes. Follow our simple dos and don'ts to ensure happy and healthy ski holidays for all.
Do keep an eye on the forecast and snow conditions. You can check them at the tourist office or ski lift or by using phone apps like the OnTheSnow Ski and Snow Report.

Do layer up your clothes accordingly (three's best for when it's really chilly). Wool or synthetic base layers are preferable to cotton as they stay dry. And don't forget those all-important extras like hats, gloves, helmets and goggles.


Do be careful when joining a slope or starting again after stopping as that's when most accidents happen. Collisions often take place at the start and bottom of ski lifts so be extra aware there too.


Do be sensitive towards other skiers, including other people in your group. Discuss routes and piste abilities (you can choose from black, red, blue and green) and book in enough comfort breaks for everyone.


Do
read the
Ski Federation's FIS Rules of Conduct
. This 'highway code for the slopes' sets out some common-sense rules around controlling your speed and maintaining space when overtaking.
Do
get travel insurance for your ski holiday. An
ABTA Travel Sure policy
with winter sports travel cover insures you for a number of snow-based activities, including skiing, snowboarding and sledding.
Don't forget to maintain your equipment, even if it's hired. Check that your skis are waxed and wipe them down with a towel after skiing to prevent rusting. Pay special attention to your snow boots as they'll cause you pain if they're too tight or too large.


Don't overestimate your abilities. Spend the first day of your ski holiday warming up and practicing your skills before tackling harder slopes.


Don't stop in the middle of a slope (unless it's a wide slope). You should stop at the side and preferably not in a place where it's difficult to be seen from above.


Don't ski blind. Unless you're comfortable with all levels of piste, there's a chance you might end up on a trickier slope than you're prepared for. Familiarise yourself with routes and carry a map on you.

Don't ignore signs. Conditions on the slopes can change quickly so be aware of any warnings or closures.


Don't take off if you're involved in an accident. First, clear the slope and make sure everyone's okay. If the accident's a serious one, you might be required to exchange details and provide witnesses.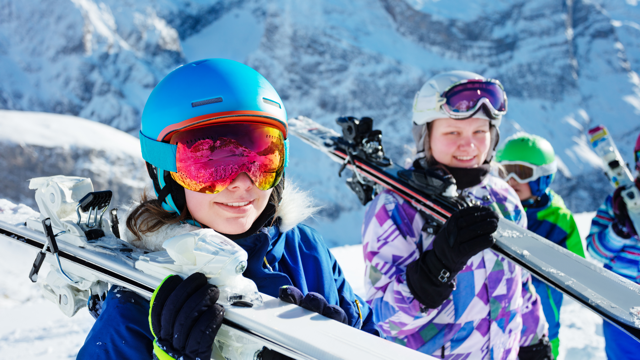 Winter sports & Activities cover
Over 70 sports and activities covered, including winter sports
Ski pack cover up to £450
Up to £250 if your resort is closed due to lack of snow